Orlando Pirates and Vodacom have got your family covered
Thursday, 21 April 2022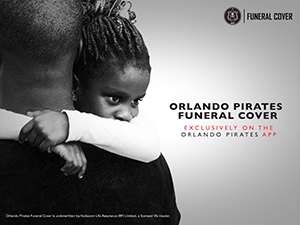 Orlando Pirates is more than just a football club, and its supporters are more than just fans. They're family. For over 20 years, Orlando Pirates and Vodacom have been a family, and family is always there for each other.
The Buccaneers have teamed up with Vodacom Life Assurance Company, a licensed life insurer to launch Orlando Pirates Funeral Cover to protect you against the unforeseen expenses during the toughest time for your family, and to help take care of the people that matter by offering affordable cover.
From as little as R60 per month, Orlando Pirates Funeral Cover offers individual and family funeral cover underwritten by Vodacom Life Assurance Company.
Supporters can sign up exclusively through the Orlando Pirates Official App and receive instant cover for up to 17 family members, with a maximum pay out of R50 000 when a loved one dies, paid within 48 hours of approval. What's more, up to 10 children in the family are added at no additional cost.
Vodacom Life Assurance has made the process as smooth as possible with no paperwork, no medical exams, no blood tests and no brokers involved. It's direct cover for those toughest of times for Orlando Pirates supporters and the South African community at large.
"Orlando Pirates Football Club is always committed to bringing our die-hard supporters closer to the Club's values in their everyday life. The Orlando Pirates Funeral Cover aims to give the Buccaneers faithful and their families sound peace of mind during moments of grief," said Joseph Bertrand, Sponsorship Manager at Orlando Pirates Football Club.
"Family is everything, and Orlando Pirates is a club that lives this every single day. As Vodacom we are proud to support the strong family bond between the club and its supporters by being there for them when they have to say goodbye to one of those special family members," said Michelle van Eyden, Head of Sponsorship for Vodacom.
"When you lose a loved one, it should be a time to honour their life and not worry about the financial burden of funeral expenses. We want supporters to know that at such a difficult time, you are not alone. You are part of this family, and we've got you covered."
View previous press releases